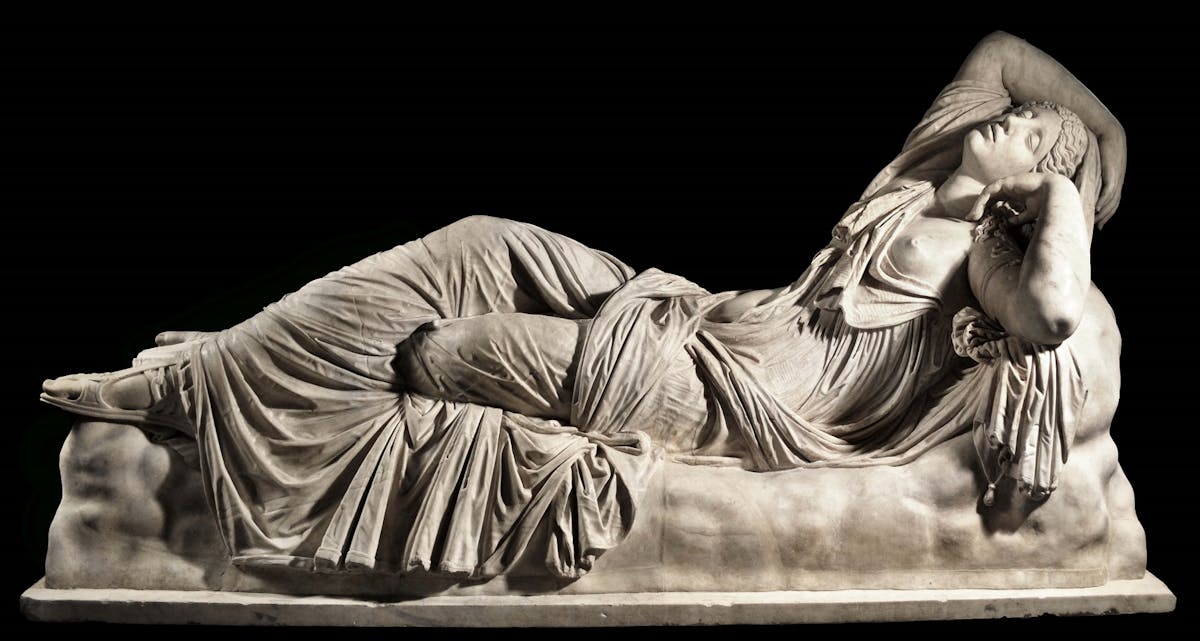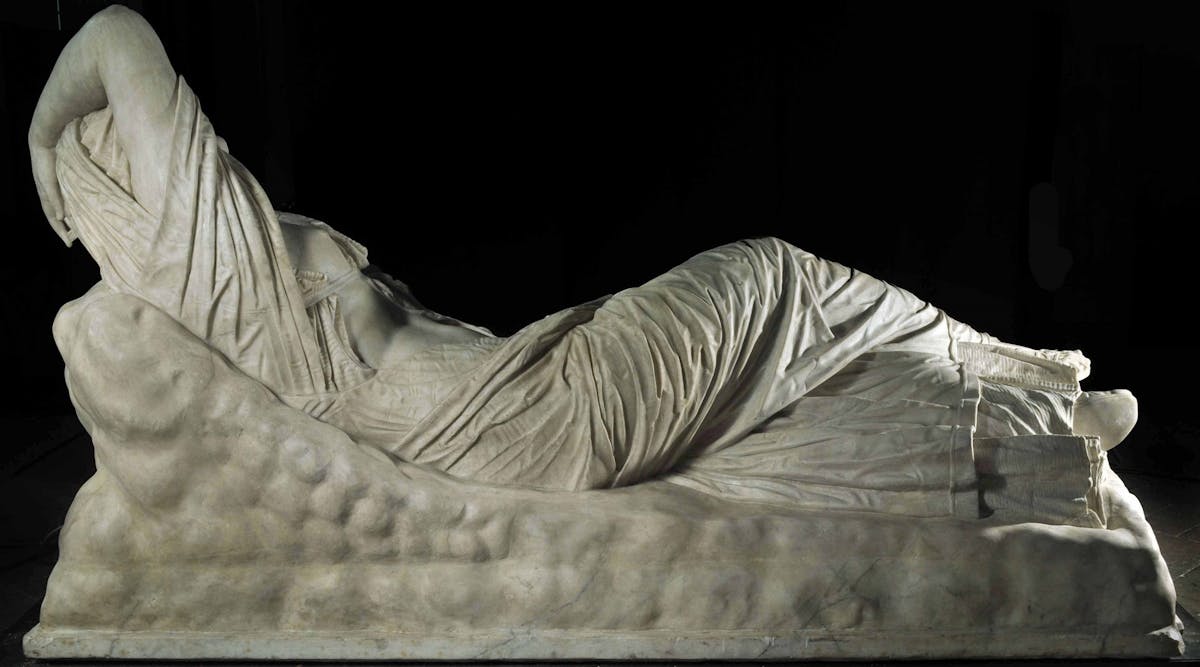 Date
Mid 2nd century A.D. (older part); mid-16th century (modern additions)
Technique
Older part in Dokimeion marble, as well as the "Milani" head and the lower part of the body (additions dating back to the 16th century); the current head and the base are in Apuan marble
Size
2.26 m (length); 1.29 m (height); 1.03 m (depth)
The more recent studies of Ariadne's statue in Florence - identified for many years as a portrait of Cleopatra - agree that the work originally came from the Del Bufalo collection in Rome and that after a brief period in the collection of Cardinal Ippolito d'Este in 1572, it joined the group of ancient sculptures that Ferdinando dei Medici was putting together in his villa on the Pincian Hill. Cleopatra only arrived at the Uffizi Galleries in 1790 and was placed in a room overlooking the third corridor (now known as 41), where it is mentioned in guides for the period. The sculpture's period in the museum was quite brief, however. In 1794, the sculpture, considered unworthy of the museum collections due to the "lack of antiquity", was transferred to the villa in Poggio Imperiale and after various vicissitudes, it arrived in the National Archaeological Museum of Florence, only making its return to the Uffizi in 2012. It depicts Ariadne, the daughter of King Minos, who helped Theseus to kill the Minotaur. She fled Crete together with Theseus, who then abandoned her on the island of Naxos. The statue shows Ariadne asleep, still unaware of her abandonment and about to be awoken by Dionysus, who would then make her his bride. The Florentine sculpture proposes an iconographic type, part of a group of sculptures that includes the figure of Dionysus, produced by Pergamum workshops from the second century BC. The figure of Ariadne is familiar from at least three more copies, among which, the best in conservation and quality terms, is the one conserved in the Vatican Museums in Rome. This model was the inspiration for 16th-century restorers when adding the bottom part of the body and for the position of the arms. The head we see today was added at the end of the 18th century by Francesco Carradori, who replaced a 16th-century head, also inspired by the Roman model. In spite of the lack of ancient part, some clues in the workmanship of the drapes (featuring deep undercuts) leave us to suppose that the Florentine copy was of great quality and likely closer to the lost Greek model than the copy in the Vatican Museums.
Interested in visiting The Uffizi?
Arrange your visit in Florence, find prices and opening hours of the museum.
Go to museum